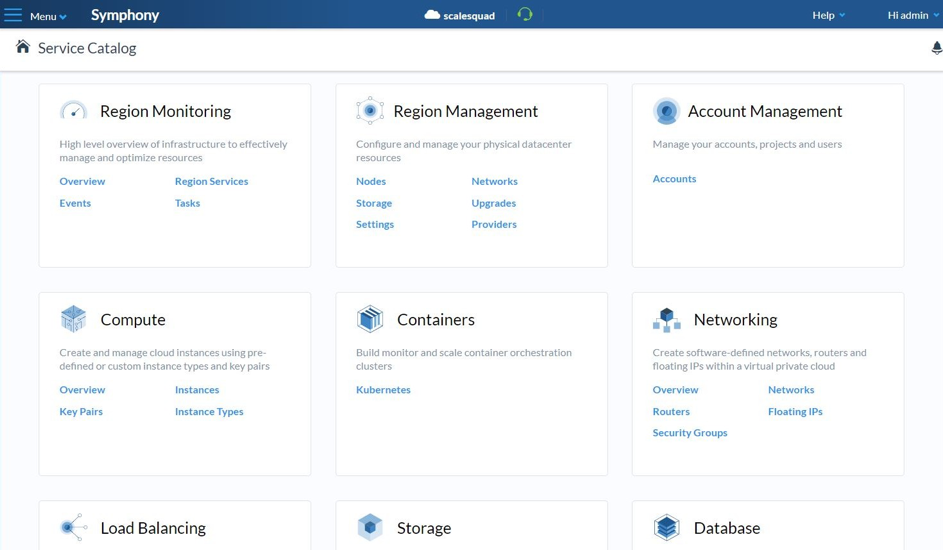 Specialising in virtualisation, software and infrastructure, Stratoscale offers a number of useful tools for managing private or hosted solutions. Symphony is one of its flagship offers, which we have already been able to handle within Scalesquad, and which we are detailing today.
Simplify the management of your environment
In the interest of agility and flexibility, Stratoscale Symphony transforms a local environment (called On-Premise) into a private - if not public - cloud infrastructure compatible with other major external services such as Amazon Web Services or Terraform. Nowadays, it is more and more difficult to manage your hardware locally when faced with solutions that are as optimised as those in the cloud, which is why Symphony wants to make things easier for the user.
Through a simple and innovative software interface, Stratoscale's tool allows you to group and manipulate your local machines in a single location, and thus obtain your own datacenter. The latter is accessible from anywhere via a web browser, with a personalised URL.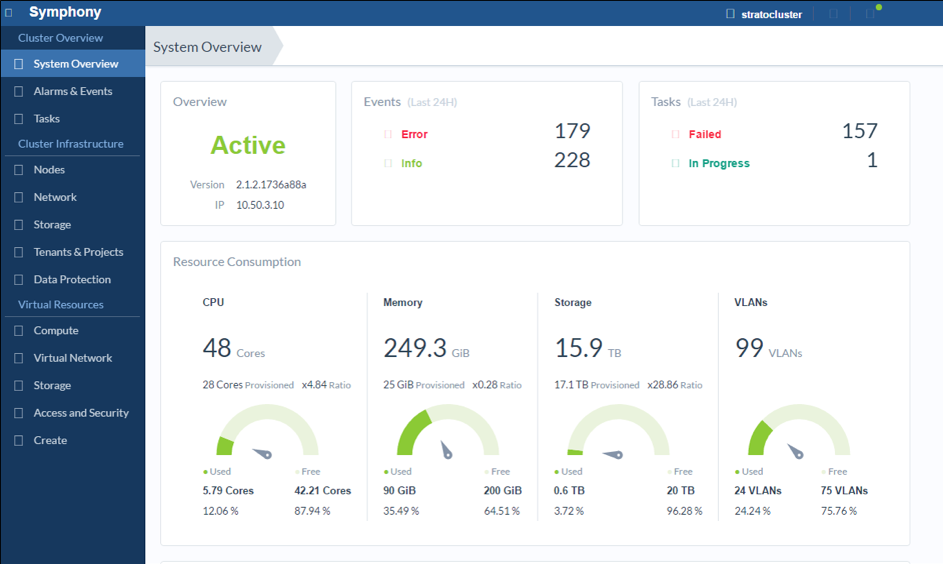 Symphony offers significant time and performance savings. First of all, because it offers a clear interface that makes it easy to deploy your machines, but also because it allows you to monitor their operating status. A few clicks are enough to display or modify the configuration, to start or stop a service, to make hardware changes. Once the installation is complete and all the network aspects have been correctly configured, the VMs can be manipulated directly from the Stratoscale tool. All this, plus a graphical interface for command lines, various APIs for external deployment and an application catalogue/marketplace to quickly obtain images of well-known services such as WordPress, Drupal, Mantis, MongoDB and GitLab.
Controlling a hyperconverged architecture
Stratoscale Symphony is not dependent on any specific manufacturer or partner. To be used, it must be installed on at least three servers with at least :
Intel SandyBridge or all newer processor families
32GB of RAM or more
128GB SSD or any physical storage with higher capacity
10 Gbit network between nodes (physical servers) in a cluster
Once installed and configured, Stratoscale Symphony creates a public cloud service environment (IaaS and PaaS) and is ready to use. It directly embeds the following features:
The complete software solution, as mentioned above, for the intelligent handling of its x86 virtual machines.
Support for external storage (iSCSI, Fibre Channel and NFS) and the ability to create a Virtual SAN if required.
A controlled and existing architecture on all nodes for easy resource management across all servers.
An extremely complete network layer, allowing the creation of private or external networks, the assignment of fixed IP addresses or even security groups for flow control between all objects.
The Symphony tools have been built to communicate effectively with each other. If necessary, technical support is available to assist.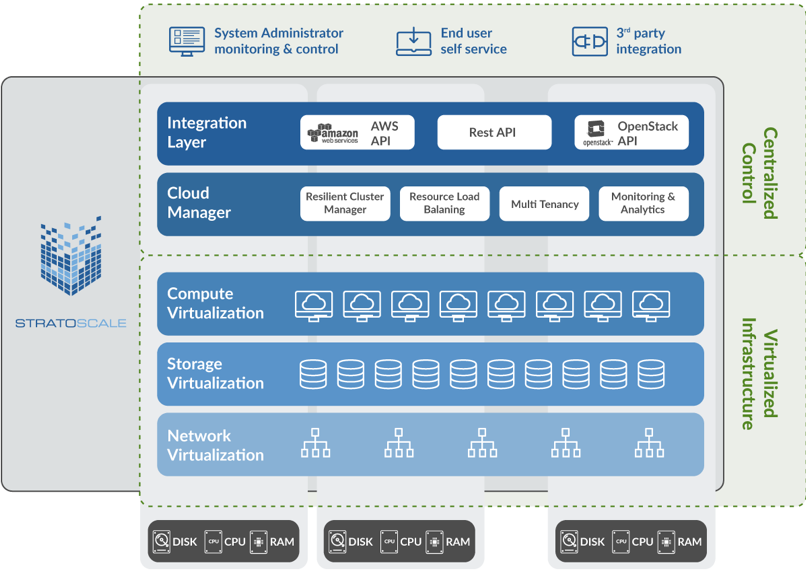 Finally, Stratoscale Symphony uses a hyper-converged architecture, which means that each node integrates storage, a processor and RAM. Unlike a traditional solution, these elements are not shared by an independent hardware, thus facilitating the management of upgrades without having to interrupt the service. The diagram above gives you a schematic summary of what Symphony can offer: a virtual infrastructure that remains controlled and flexible for the user.
If you would like to know more, we invite you to consult the official documentation or to contact us directly to discuss your projects.